Last week, I forced my sister out of bed at 5am to venture down to the Hermès A Special Silk and Accessories Sale at the Metro Toronto Convention Centre. All of the proceeds from the sale go towards Multiple Sclerosis research at St. Michael's Hospital. Buying Hermès for the benefit of others? Yep, sign me up. The sale, which only happens once every two years, began at 8am so naturally, I thought it smart to get there early. Little did I know, "early" was not early enough. We arrived at 7am only to find 400 other people had arrived before us (some even at 5am!). Needless to say, we finally made it to the front of the line after waiting about 2 1/2 hours and consuming copious amounts of coffee and green tea. The inside of the sale was chaos, women pushing and elbowing others in order to grab what they wanted. I originally
hoped to go home with an enamel bracelet, but those were long gone once my turn came along. Instead, I took home a beautiful 90x90 silk twill scarf and an Hermes soap (that I basically only bought for the classic orange box it comes in).

The scarf is from the 2009 F/W "Le Monde Est Vaste" collection, designed by Cyrille Diatkine and I'm absolutely in love with it.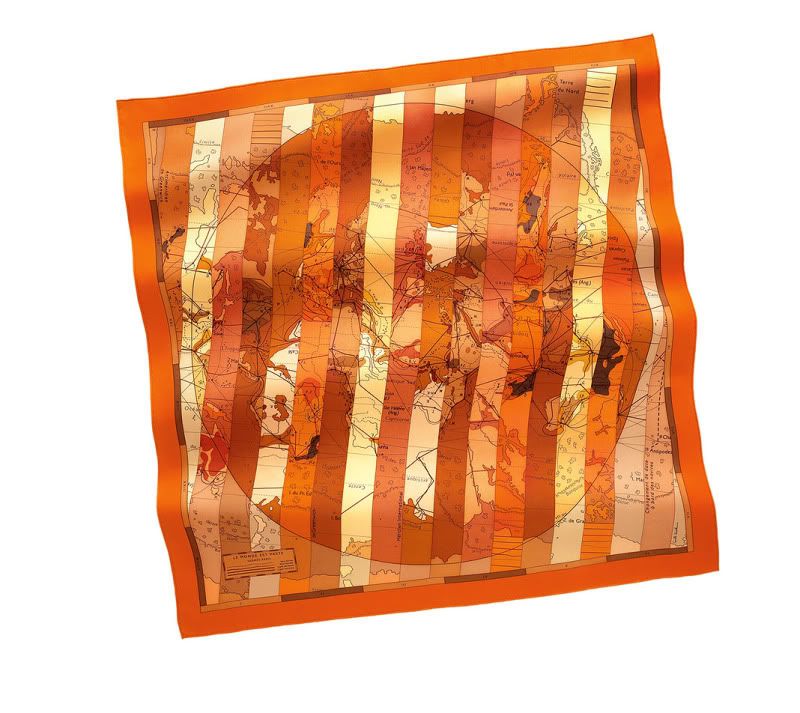 There were so many scarves to choose from I had a hard time narrowing it
down. I kept coming back to this one and, in the end, decided it should come
home with me. Now it can join my other two vintage 90x90's that were a gift
from my Aunt and must be about 20 years old.

I'm already anxiously awaiting the next sale, two years from now.