Alrighttt, let's just get right to it. If you watched the Golden Globes on
Sunday, you probably have your own best and worst dressed list. If you
didn't watch the Globes, let me break it down for you. The colours of the
evening were yellow, yellow, yellow and nude. Oddly enough, none of the
stars wearing yellow or nude made it onto my best dressed list.

Everyone else, for the most part, played it decidedly safe. It feels like every time
one of these events rolls around, there is really only a small handful of ladies who
really bring it. I mean, you have weeks to plan in advance, countless resources,
money and help available to you, and yet some people show up looking like shit.

Let's just move on to the dresses, shall we.

Golden Globes 2012 BEST DRESSED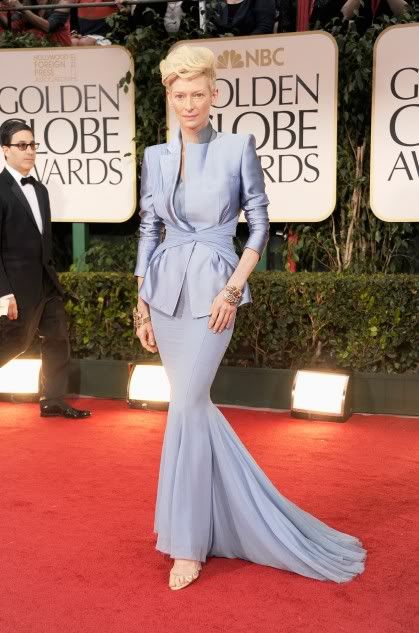 Tilda Swinton in Haider Hackerman.

Tilda Swinton can really do no wrong. She shows up to these things completely
owning whatever she's wearing, which in large part contributes to just how
amazing she looks. Great colour on her.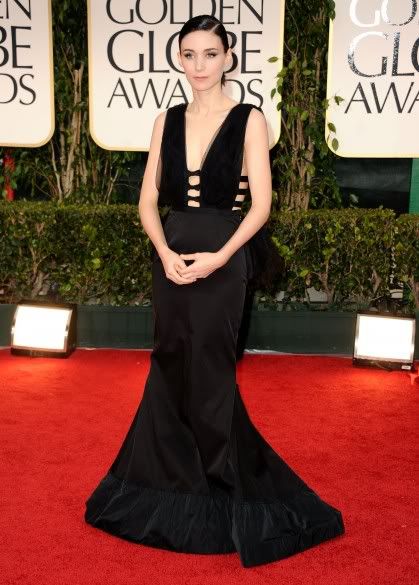 Rooney Mara in Nina Ricci.

The Dragon Tattoo star has been making the rounds in many a black/grey/nude
dress and I think it's safe to say we were all hoping she'd show up to the Globes
in some colour. Seeing her in this Nina Ricci number, however, did not disappoint.
It's simple, it's black, but the details help bring it to life. Stunning.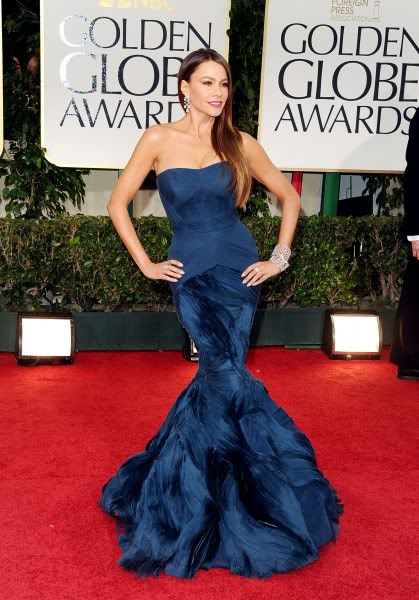 Sofia Vergera in Vera Wang.

I've never been a huge fan of fishtail dresses. They seem to be the easy way out
of these award shows. Sofia seems to sport this silhouette quite often, but you
really cannot deny how fabulous this woman looks in a dress. It fits her like a
glove, and the colour and detailing is pretty great. I'll give it to her this time.



Emma Roberts in Zac Posen.

Emma didn't walk the red carpet at the awards, but she did show up at one of
the after-parties wearing this. Usually, the after-party calls for a more paired-down
look, but Emma went all out. The neckline is interesting, and while I don't think it
fits her that great in the chest, the colour makes up for it.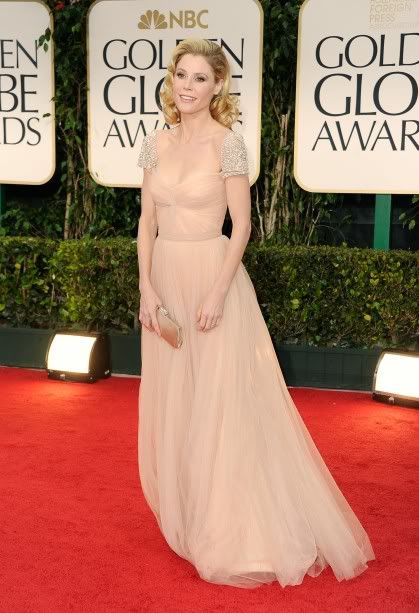 Julie Bowen in Reem Acra.

This dress is likely not at the top of anyone's best dressed lists, but there is
something about it that I love. The timelessness of the silhouette and the
delicate colour really just get me. The sleeves are pretty great too.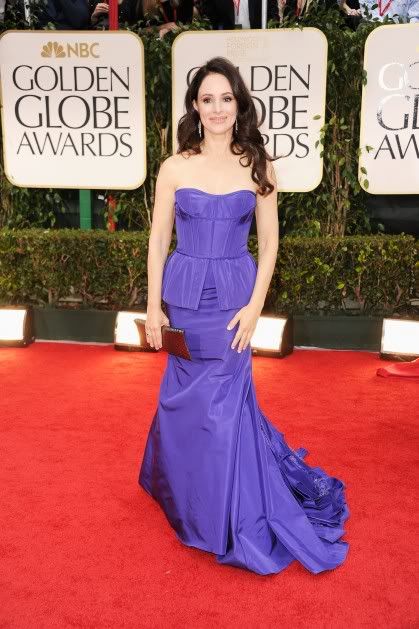 Madeleine Stowe in Vera Wang.

Madeleine is amazing on Revenge. (If you don't watch Revenge, you should
probably start). She is so gorgeous, and this dress goes great with her dark hair
and fair complexion. Totally fierce. Now if you'll excuse me, I'm going to go
watch last night's episode.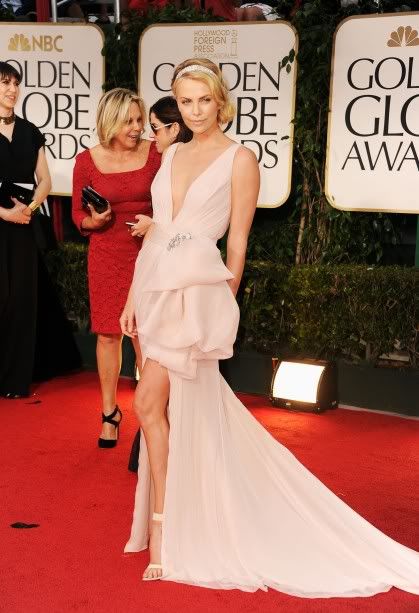 Charlize Theron in Dior.

I have to admit, I was anxiously anticipating what Charlize would show up in, and
although this isn't what I was picturing, she looks amazing. The dress is perfection:
classic and chic with just the right amount of edge. Her makeup is delicate and
understated in keeping with the colour of the dress, and the jeweled headband really
just brings the entire look up a notch.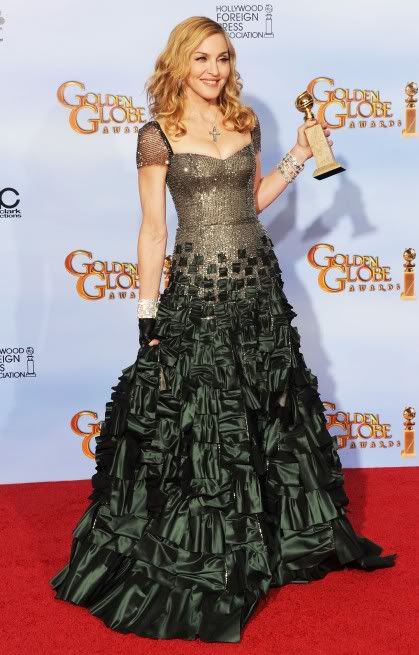 Madonna in Reem Acra.

Although she herself was thoroughly annoying throughout the evening, I can't say
the same about the dress. It's definitely interesting and eye catching. It's something
different, and it works. I could have done without the necklace and the gloves
though. Just annoying.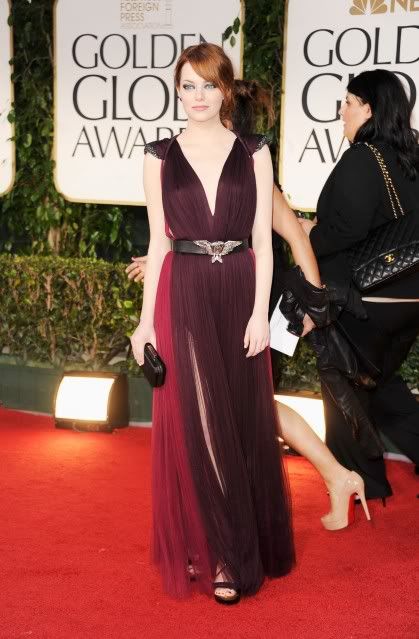 Emma Stone in Lanvin.

Girl crush. She can do no wrong. The dress is stunning. I especially love the
two-toned hues, paired with an unexpected belt. Great hair and accessories,
though the makeup is a tad heavy.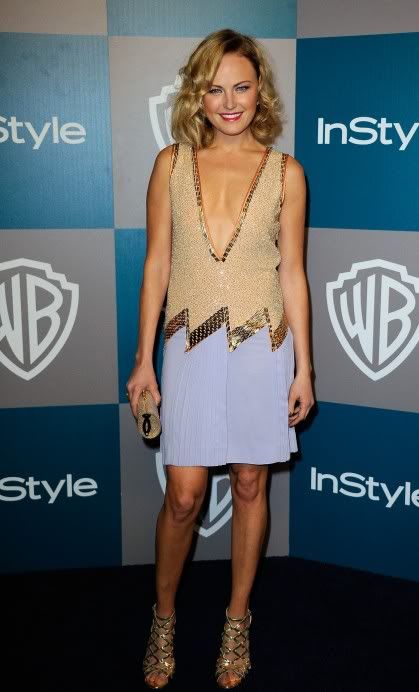 Malin Akerman in Etro.

Here is another dress that didn't walk the red carpet, but showed up to the after-party.
Frankly, this is my favourite look of the night. It's not a gown, so maybe I shouldn't
put it in the same category, but oh well. She looks AMAZING. I love the colours
together, I love the pleating, and her accessories complement the dress perfectly. Now
where the hell can I get this dress?

Golden Globes 2012: WORST DRESSED

I think the dresses speak for themselves.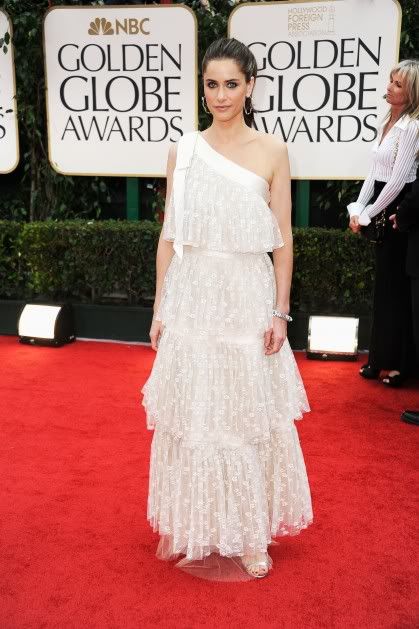 Amanda Peet in Marc Jacobs.

How did you leave the house looking like this? And more importantly, how did Marc let her?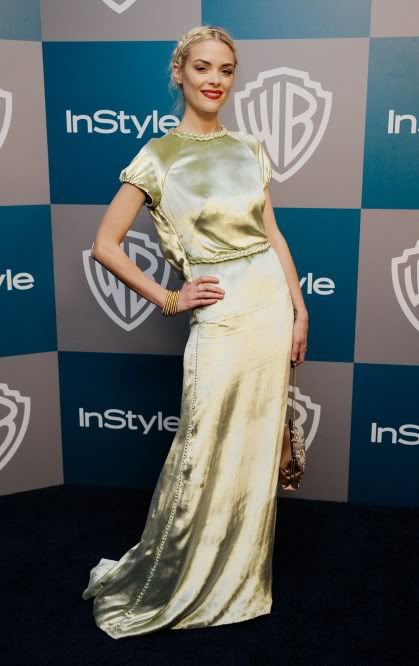 Jaime King in Valentino.

Terrible colour. Wrinkled mess.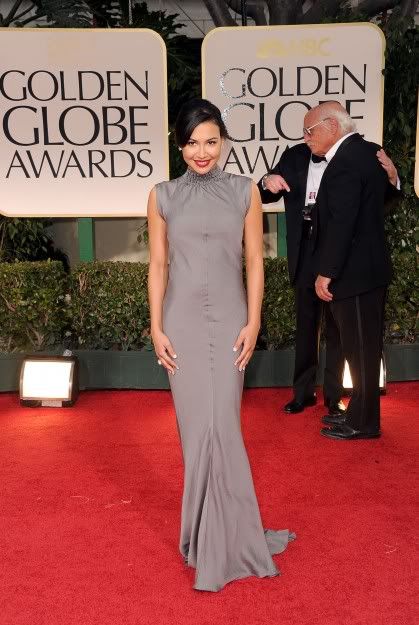 Naya Rivera in Vera Wang.

Terrible colour. Terrible shape. Wrinkled mess along the front seam.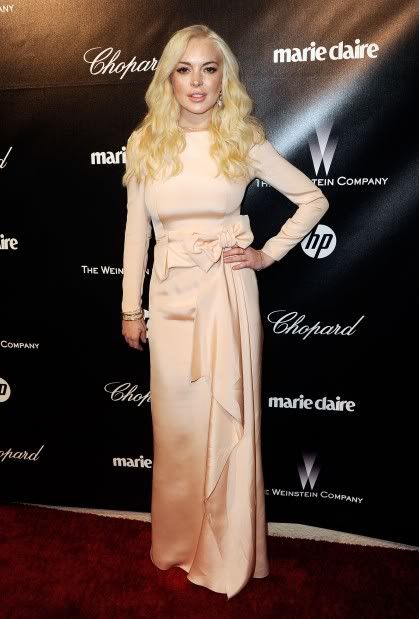 Lindsay Lohan in Prada.

Terrible colour. Terrible shape. HOT MESS.